We recognize that all our patients are unique and deserve to receive dental care that reflects their individual needs. Our experienced and talented dental team is committed to working with you and your family to create a comfortable, stress-free, and rewarding dental experience every time you visit our practice. We are pleased to welcome you and your family, and we look forward to working with you!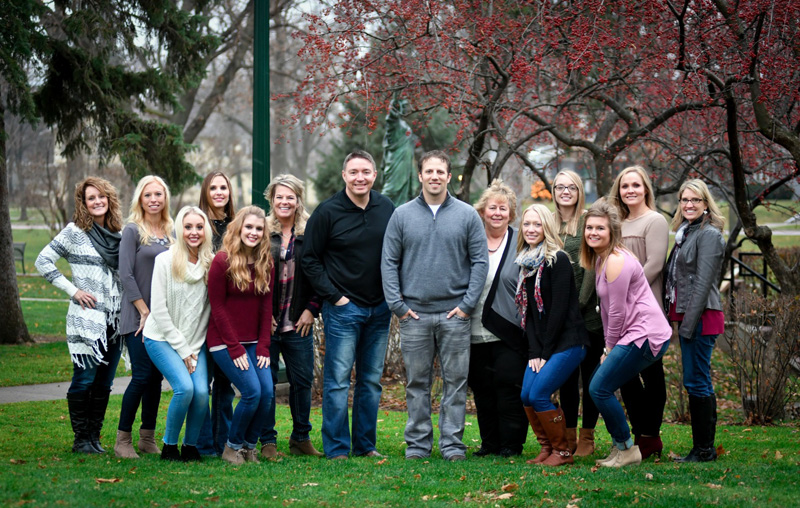 Nicole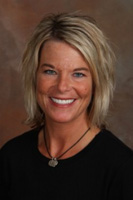 I grew up in Aberdeen and moved to Sioux Falls in the fall of 1990. I have been working at the Dental Comfort Center since 1996. Helping people and building relationships with our patients is my favorite part of dentistry. I take pride in helping patients further understand their dental insurance benefits.
I have a daughter Jordyn and a son Carson; they keep me very busy outside of work. I also enjoy biking, shopping, going to movies, and taking my children to their activities.
Lindsey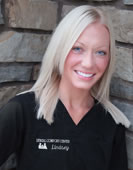 I grew up in a small town in northeastern South Dakota. I graduated in 2005 and went on to complete a bachelor's degree at South Dakota State University in 2009. I started working for the Dental Comfort Center in the summer of 2014, after working retail for more than seven years. I have had the privilege of getting to work with a compassionate and highly knowledgeable team. My favorite part of being the patient care coordinator is getting to know our devoted patients and building relationships with new ones.
I enjoy spending time with family, friends, and my two dogs. Also in my spare time, I enjoy running, biking, hiking, and relaxing with a nice glass of wine.
Yvonne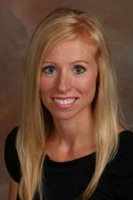 I grew up in the Central Valley of California and moved to Sioux Falls in the winter of 1994. I have been practicing dental hygiene for the past 21 years and am a member of the ADHA. My first four years of practice were spent working in a periodontal practice, where I gained valuable knowledge about diagnosing and treating periodontal disease. Then I moved to Sioux Falls and have been working at Dental Comfort Center for nearly two decades. I enjoy working with the team here that is dedicated to quality care.
My husband and I have four children. Outside of the office, I enjoy running, biking, and swimming.
Julie
I grew up in Watertown and have been working as a dental hygienist since graduating with my BS in dental hygiene from USD in 1996. I love getting to know my patients and their families. My goal is to make my patients feel comfortable in the dental chair while we provide thorough treatment. I am lucky to work with such a great group of people who have fun together and want what's best for our patients.
In my spare time, I enjoy camping and traveling. My husband and I have a son who is active in a lot of sports, especially soccer. We also have a feisty Shih Tzu who keeps us on our toes!
Alicia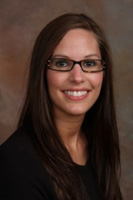 I have worked in the field of dentistry since graduating from the dental hygiene program at Argosy University, in Egan, Minnesota, in May 2008. I joined the Dental Comfort Center team in December of that year and really enjoy working here because of the conservative approach to treatment, as well as our thorough explanation of treatment options we provide each patient. My favorite thing about the practice of dentistry is meeting new people and taking the fear out of dental care by providing the best treatment in the most comfortable way possible. We all do our very best to make each patient feel at home in our office.
I have been married to Matthew since 2005. We have two adopted kids and three foster kids. We also have three dogs. We all love to swim, ride bikes, play outside, watch movies, dance, sing, and wrestle around together. We are a goofy bunch!
Michelle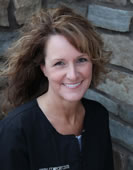 I am originally from Southern California and moved to South Dakota in the winter of 1993. I learned what a real winter was right away! I graduated from USD-dental hygiene in 1998 and again in 2000 with a BS. I really enjoy working with this dental team! Everyone in our office is quality-driven and patient-oriented. It is a pleasure to work in such a relaxing and professional environment. I enjoy getting to know patients of all ages and helping them to feel at ease during their visit, all while having some fun and humor along the way. Helping patients to improve the health of their smile is rewarding, and the best part is seeing them excited to come back.
My husband Barry and I have two children, Jessica and Scott, who keep us busy with their activities. A few of my favorite things are camping and boating, biking, movies, and hanging out with my family and friends.
Kate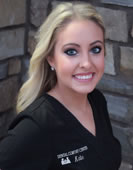 I grew up right outside of Sioux Falls where I attended Harrisburg High School and kept busy with sports and other various activities. I graduated from the University of South Dakota with a Bachelor's degree in dental hygiene in 2013. Soon after, I started working at Dental Comfort Center, which was the office I grew up going to as a little kid! It has been amazing being on the other side of the dental experience! Since working here, I continue to expand my skill set and learn more and more with every day! I strive to give patients a very relaxed and positive dental experience.
In my free time, I enjoy traveling, doing anything outdoors, running, playing volleyball, spending time with my boyfriend, family, friends, and blogging about fashion and health!
Gail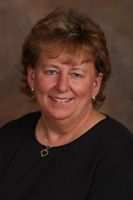 I grew up on a farm near Humboldt and graduated from Lake Area Technical School from the dental assistant program. I started working at the Dental Comfort Center in 1975. I enjoy working with people and being able to help them with their dental needs.
My husband Kerry and I live in Hartford. We have three grown sons and four granddaughters. In my spare time, I enjoy being outdoors, gardening, doing crafts, and sewing.
Andee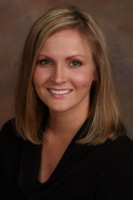 I have been assisting Dr. Aadland since January 2007, after graduating with my B.S. in health science from USD. It is rewarding to get to know our patients: to help them gain trust and feel comfortable receiving dental care. It feels great knowing we can turn around someone's fear of going to the dentist. I look forward to coming to work every day to work with a great team! We truly care about each and every patient and their individual needs. Our focus on teamwork helps deliver the best possible care for our patients.
My husband Wade and I have two children, Harper and Dominic, and two dogs. Much of our free time revolves around our kids' activities. We love to spend time outdoors when it is not cold out!
Carly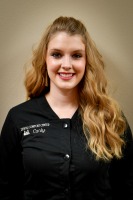 I grew up on a small acreage in rural Wentworth. I attended Chester Area High School, where I was very active in sports and extracurricular activities. I graduated in 2010 and went to Lake Area Technical Institute, where I completed my dental assisting education. I was fortunate enough to get a job right out of school with Dental Comfort Center. During my time here, the team has made me feel very welcome. I have had the privilege of working with very knowledgeable, caring individuals who are great at what they do. We all work really well together and genuinely care about what is going on in each other's lives.
My husband and I were married in 2017. We enjoy traveling and playing sand volleyball and ultimate Frisbee. We have a cat named Biggsly who showed up at our front door a few years ago and never left!